Please meet our constantly growing team of volunteer e-Tutors! They dedicate their time and energy to make a difference in the world. They work really hard to support and guide our learners. Some of our e-Tutors have kindly agreed to share their stories with you:
Mark Houldsworth
In 2012, I retired from a 32-year career in policing.  Most of my policing career focused on community policing and more specifically in schools.   Presently, I live in a small village outside of Ottawa, Ontario with my wife and several dogs.  We have a grown daughter and son that are pursuing their careers.   I have a special affinity for Winnipeg and Manitoba.  My father is from Winnipeg, and I spent many summers with my grandparents at their home on Lake Winnipeg.  During the 1980's, I completed a Bachelor of Arts Degree (with a concentration in Geography and English).   This was a time when home computers did not exist, and research had to be done in libraries.  The times sure have changed as I now Skype with My English Online e-students who live in  Manitoba and around the world. Upon retiring, I enrolled in the Algonquin College Graduate Certificate Program-Teaching English as a Second Language/Foreign Language (TESL/FL) which was completed in 2017.
During my TESL/FL training, I volunteered and continue to volunteer with Language Instruction for New Comers (LINC) classes and with My English Online putting teaching theory into practice.   Both are personally rewarding experiences.  The students inspire me with their dedication and perseverance.  And I learn so much from their points of view and life experiences.One of my favourite sayings for myself and my students is "strive for progress not perfection".
---
Amrita Gill
Amrita Gill has been part of ESL teaching field for the last 6 years- having taught mostly in Alberta and abroad in South Korea (as part of a university exchange program). Currently she is a TESL certified ESL Adult Literacy Instructor and Language Vocational Counsellor Assessor in Edmonton. She is a Board Director with ECALA where she spends her time  supporting individuals access non-credit educational opportunities throughout Edmonton.She has supported learners from initial assessment to a student's first day in the classroom and has strong understanding of the existing challenges and barriers learners encounter throughout their educational journey. Recently she has mentored several practicum students – welcoming them to the world of literacy! She admires the commitment and determination her online students have shown in improving their English language skills. Her favourite part about working in the ESL online world is discovering the unique web-based tools to introduce and use with her learners.
She considers herself a "gym rat"and especially enjoys weight lifting and yoga for the mental and physical challenges. On cold winter days you will find her baking a new treat in the kitchen and sample new teas or mixing up a new concoction of natural beauty products. She will be starting her Masters in Education (Teaching English as an Additional Language) this summer (2018) at University of Calgary. Also, this summer she will be
---
Ali McGillivray
Being an e-tutor is a wonderful experience and I am always very excited when I receive the name of a new student. I learn so much from them. Their courage in starting over in a new country, their dedication to learning and their achievements are an inspiration. I have met so many amazing people during the two years I have been with English on Line. I worked as a teacher librarian and a Social Studies and History teacher for 34 years. I loved the energy of high school students. Last June, however, I decided that a career change was necessary. I had received my TESOL and had started to become more involved in teaching ESL. I now teach English to adults in a college on a part time basis as well as doing private tutoring. I have worked in Seoul with Korean students on their winter school holiday and taught at a summer camp in Vancouver for international students. I love volunteering. I have coached field hockey, read textbooks for visually impaired university students and each summer I spend lovely hours in downtown Vancouver helping tourists get the most out of the city. English on Line is a wonderful organization to be involved with as it provides its tutors with a wealth of professional development opportunities.
Hope to see some of you via Skype!
---
Fiona Smith
Proudly Canadian, Fiona L. Smith is currently a full-time Masters of Education (Distance Education) graduate student at Athabasca University.  She has over 20 years ESL/EAL teaching & tutoring experience, has taught adults, K-12 and been a term instructor at the University of Manitoba. She currently lives in Winnipeg with her husband, 2 daughters (1in university; 1 in high school) and 2 dogs. Fiona co-founded the non-profit organization, Mastocytosis Society of Canada, and enjoys volunteering with LINC/English Online as an e-Tutor (EAL) and e-Settlement Counselor. She is a professional artist, writer, and editor. In July 2015, she published the co-authored, peer-reviewed piece, CANADA – INCLUSIVE DISTANCE EDUCATION: Experiences of Four Canadian Women. http://www.wojde.org/FileUpload/bs295854/File/02_43.pdf Fiona is passionate about distance education, ESL/EAL, life-long learning and disability studies. She also enjoys yoga, belly dancing, cooking and learning the drums.
---
Debbie McCuaig
I recently graduated from the University of Winnipeg's Teaching English as an Additional Language (EAL) – Teacher's Certificate Online Program in 2018.  Professionally I am a Business Owner & a Biochemist and I work full-time in my own company I founded back in 1996. My expertise is in developing, registering & manufacturing a variety of cosmetic & therapeutic body care products primarily for wholesale to other companies. Teaching and mentoring has long been an interest of mine and I wanted to share my knowledge and experience.  I recently completed an online Tutoring program with Formula Botanica which has provided me with many skills and tools to tutor online or one-on-one with students interested in the many aspects of what I do. What I found was the majority of people showing interest were immigrants or refugees of which I felt lost in how to address the language difficulties. This led me to the University of Winnipeg's EAL – TCP online program. My goal is to further my skills to include online e-tutoring as this would provide more flexibility for me in the future. My love of travel and my own goal of a second language learning of Spanish has given me an appreciation of the challenges that learners face. Volunteering with English Online for the last couple of years has been both rewarding and enriching to me personally and professionally. I love meeting new people and working with enthusiastic learners to help them reach their goals whether that is settlement issues, education or career development. I have come to know students from a variety of backgrounds each with their own English language goals and I love playing a part in them achieving their dreams.
---
Christiana Elliot
I have been an English language and ESL teacher for more than 15 years in my native country, Romania. After attempting different career paths in Montreal, I learnt that my passion is still teaching, so I decided to upgrade my skills by pursuing TESL (Teaching English as a Second Language) diploma in Ontario. My administrative skills made it possible to transfer my teaching skills into the online environment, so I started teaching online two years ago. Now, I have been volunteering with English Online for more than a year now. I find it rewarding to work with newcomers who are motivated to improve their English skills so they can work better jobs or even go back to college or university.
Speaking English, French and Italian as foreign languages, I know exactly the difficulties adult learners encounter when learning a new language. Experiencing how it could be difficult to understand native speakers of the English language sometimes, I grew a passion to support learners who are interested in accent reduction training to help them sound clearer and be easier understood. I love to work with new methodologies and share from my own experience as a learner. I look forward to meeting and working with some of you online!
---
Bushra Majid
I immigrated to Canada from Middle East in 2008. My teaching career started right after completing my bachelor's degree in Science from University of the Punjab, Pakistan.  In the beginning, I preferred to work as a freelance teacher because I was also pursuing my master's degree in Economics. I started with a small group of students who were seeking assistance in their studies. My students' good grades and positive feedback from their parents kept me motivated towards this rewarding profession. In 2004, I moved to the Middle East. I applied for a teaching position in a secondary school and fortunately got that opportunity. When I moved to Canada, I decided to become an ESL instructor, so in 2015 I got my TEFL certification and in 2017 I completed my TESL certification.
I started volunteering with English Online in 2017. Volunteering as an e-Tutor with this great organization is a rewarding experience. My future goals are to enhance my professional expertise as an ESL teacher and assist my students in their journey to become capable and independent learners.
My favourite teaching quote:
"The art of teaching is the art of assisting discovery." -Mark Van Doren
---
Samir Hammad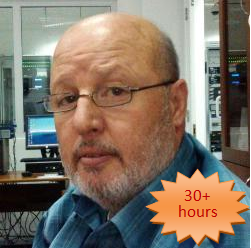 I came to Winnipeg 4 years ago. I am an electronics and telecommunications engineer. 30 years of experience in my field in Dubai, United Arab Emirates. The last job was Network operations engineer – SamaCom Teleport Dubai. I worked in the TV and FM broadcast, MW, DVB-T and DVB-H tests. Over than 10 years Technical editor in a satellite and electronics magazine. I am volunteering in different places, but English Online is the most favourite to me since I feel the direct effect on my e-learner. 3 of my e-learners arrived to Winnipeg this summer.
---
Mary C. Kutarna
I am a veteran HR professional and new ESL teacher who is passionate about helping new Canadians as a mentor, teacher and friend.  As a first generation Canadian I understand the challenges and opportunities that my parents and grandparents faced when they arrived in Saskatchewan and Manitoba from Poland many decades ago. To a much lesser degree I experienced some of the same challenges of relocating from Saskatchewan to Ontario and having to establish new networks, seek employment and gain the same credibility that took me 10 years to earn in my established career in Saskatchewan.  Toronto is now my home where I work and enjoy leisure time with my husband and 5 children.  I am currently a member of the HR Professional Association in York Region, Ontario volunteering my time as a mentor of other HR professionals and assisting with the York Region Mentor Program as the Communications Lead.    I also participate in the Toronto Regional Immigrants Employment Council (TRIEC) Profession to Profession Mentoring program.
I am enjoying my 3rd year as a volunteer eTutor with English Online and have enjoyed each and every opportunity with learners from Egypt, Israel, Korea and Russia.  One of the great benefits of volunteering is meeting new people who we may associate with for 10 hours or for years.  One of my most rewarding experiences with English Online was participating in the inaugural eMentor program in February 2014 and having the wonderful opportunity of meeting my mentee and her husband in person at the Toronto airport as they made their journey from St. Petersburg to their new home in Winnipeg.  We mutually enjoyed our experiences in the eMentor and eTutor programs and to this day stay in touch via email and Skype.  I'm proud to say that my first mentee and second ESL learner with English Online is a successful HR professional in Winnipeg.  Thank you English Online for giving us the opportunity to connect and learn from one another!
---
Mary Moore
I am a proud Winnipegger who believes deeply in connection and community. I am passionate about travel, food, and enjoy an active lifestyle infused with continuous learning.
With over 10 years in the not-for-profit sector, I have been involved in community engagement in a variety of roles, including Recreation Programming, English Teaching, Volunteer Coordination, and Facilitation. As the partner of a new Canadian, I have seen the transitions that newcomers experience and witnessed how overwhelming it can be. This experience has inspired me to help other newcomers navigate Canadian systems and, partnering with English Online, has given me me the privilege to learn more about the diverse backgrounds of our new community members.
My favourite thing about volunteering with English Online is that it has afforded me the opportunity to exchange knowledge through front-line work with individuals. I look forward to continuing my growth with an organization focused on providing flexible and accessible services to help newcomers reach their full potential.
to Winnipeg this summer.
---
Vadim Nazim
I am a Professional engineer in the Mechanical engineering with a designation in Province of Manitoba. I hold a Mechanical Technologist and a Bachelor of Science in Mechanical and System Engineering degree. I am also a certified engineering technologist with a designation in Province of Manitoba. I immigrated to Manitoba in 2011 and started my e-volunteering with English Online in April 2015.  I am married and have three children: Jessica, Sean and Emily. As a newcomer my few years back, I decided that my goal was to become a Professional Engineer in Manitoba, and work in my profession. Therefore, I spent enormous amount of time researching my possibilities on how to become an engineer here in Canada and Manitoba.  This involved, hours of searching through government website, APEGM website, websites that offered financial help, and of course dozens of forum websites as well as writing dozens of emails. Based on my experience, when I saw the opportunity to help those professionals who currently are in the situation that I was, I applied to be a Career e-mentor.
My goal when I am working with my mentees is to build my session for them, and provide as much as possible information related to their specific cases. I believe that this focused way of delivering information will help them to realize that to become an engineer, in Canada is durable and there are many ways how they can achieve the goal.
---
Sophia Williams-Coley
Sophia carries extensive experience in working and volunteering within culturally diverse educational and social service settings.  She is a graduate of the Social Sciences program from McMaster University.  Sophia has been offering e-tutoring lessons along with in-person English tutoring classes for close to 5 years, and she is enthusiastic about supporting international learners.
Sophia's colleagues and program managers have testified to her dedication to helping her students and team members actualize their full potential: www.linkedin.com/in/sophiawc
---