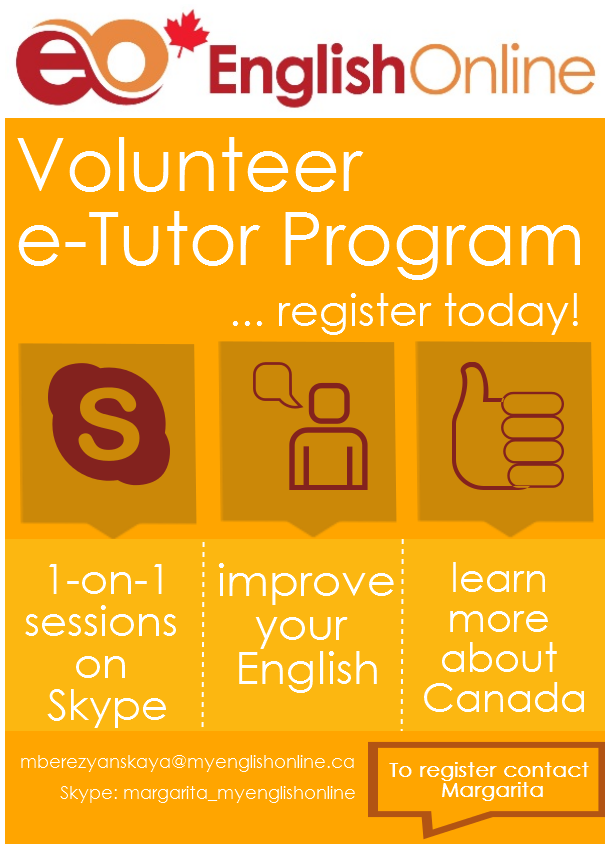 Learners already registered with English Online can contact Margarita by email mberezyanskaya@myenglishonline.ca to apply for the Volunteer e-Tutor program.
Not registered with English Online? Check the eligibility criteria and registration procedure here http://www.myenglishonline.ca/for-learners/register/
Volunteer e-Tutor
Your Volunteer e-Tutor will help you improve your English skills: reading, writing, listening, speaking.
Time: 1 or 2 hours a week
Total time with an e-Tutor: 10 hours
How long: 5-10 weeks
Place: Skype/phone/email
With your Volunteer e-Tutor, you will:
1. discuss what you want to learn and practice
2. set goals for your sessions and work towards them
3. discuss and agree on session schedule
4. actively participate in the sessions
5. follow e-Tutor's suggestions and recommendations
6. complete your Learning Journal after each session
Your Volunteer e-Tutor will:
1. prepare tasks and activities for each session according to your learning needs
2. base these activities on topics you're interested in
3. share useful learning resources and/or tools
4. Share his/her knowledge of Canadian culture and life in Manitoba
5. give you recommendations on further improvement
6. make your sessions productive and fun!